What all the fire about
If you been on the r/gpumining reddit group for any amount of time you've probably run across their strong negative statements on using SATA plugs to power riser cards. This claim is that the SATA connector has a max of 54 Watts and that PCIe slots can consume up to 75W of power. But the reality is a little more complex than this, so let's dig into this more.
PCIe and SATA Power Details
As mentioned on our detailed discussion on riser cards the PCIe slot uses both 12V and 3.3V power.  The PCIe spec specifies a max of 3 Amps of 3.3V power and 5.5 Amps of 12V power.  That translates to 66 Watts of 12V power and 9.9 Watts of 3.3V power.  If we compare this with the connector's ratings the 5 V lines in the SATA cable can provide another 22.5W of 5V power, based on a max of 1.5A per connector and there are 3 in the SATA plug for each voltage.  The 12V power can also deliver a max of 1.5 Amps per connector, with the 3 connectors that give us 54 Watts of power on the 12 Volt side.
The PCIe 3.3v power will come from the 5V SATA Power via a linear power regulator. So, the voltage is scrubbed as heat. Therefore, to not overload the 1.5A per pin, we really can only get 14.9 Watts of 3.3V power. But that covers our need for 9.9 Watts, so the real issue is on the 12V side where we get 54 Watts from the connector and can use up to 66 Watts on the PCIe slot. So needless to say, we can easily exceed the rated max power for the 12V part of this connector by 12 Watts. However, these rated maximums are typically conservative and were close so let's look a little deeper at this. Let's look more at how these connectors are failing and if this is really the issue.
How Connector Fail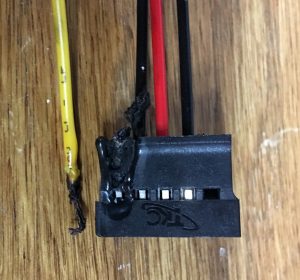 The fears touted on r/gpumining are that this will cause fire and cause you house/garage/apartment to burndown. I've had some experience with issues related to these connectors failing in early prototyping were did. However, the failure was not for the reason said on r/gpumining. The biggest issues with SATA cables are not the connectors but the cable itself. One cable I bought had max 3 strands of tiny coper wire. The insulation on the outside looked like a normal wire but when I cut it there was nothing there. And we've found that most SATA cable have very small gauge wire. This is not the case for our custom wiring harnesses.
The other interesting thing is where these connectors failed. They did not fail in the connector, they did not melt to the riser card, they did fail at the back of the connector where the wire came in contact with the crimped metal. I saw the same with PCIe power cables, they fail where the wire comes in contact with the crimped connector. This makes sense since there is air around the wire, there is limited contact patches and often dis-similar metal types. All this makes it hard for the electrons to flow. So, IMHO the problem with SATA power cable is not the plugs as discussed above but the wire often used in them.
Conclusion
We have successfully run SATA based risers on over 1100 GPUs for over 2.5 years and not had any issues. So, with a properly designed system we can run SATA powered risers. But it's worth pointing out that for the typical novice builder there are many pitfalls in building a system that will be able to handle the power needs of these GPUs. Checkout our customer breakout board and wiring harness for our design that addresses these issues. Also, check out our in-depth article on [GPU risers] to understand why we want to use these SATA based riser cards. The punchline… They are cheaper and that matters when you are going to buy over 1000 of them.